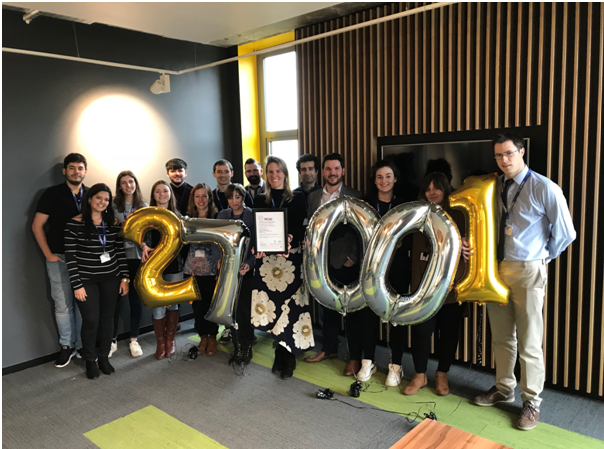 As technology becomes more prevalent in our lives, we are often so reliant on innovative features, automatic software updates and ease of use that we don't stop to think about what this means for our privacy and security. Detailed customer data enables businesses to provide us with the products and services that we expect, often in a more meaningful way. But where such data contains personal, financial or medical information, companies have both a moral and legal obligation to keep it safe from cybercriminals.
With the General Data Protection Regulation (GDPR) coming into force on the 25th May, that obligation has taken on a new urgency. Transpoco, as a cloud fleet management solutions provider expanding its focus further to connected vehicles and automotive OEM technology research, has already made the journey towards the implementation of a strong information security management system by getting certified to ISO 27001. ISO 27001 is designed to bring benefits to any type of business and is applicable to all users, including small and medium sized organisations.
"Companies can no longer overlook information security in the Big Data era and should have processes in place to prevent data from being accessed, corrupted, lost or stolen. We know this from our long experience with vehicle data. The ISO 27001 certification helps us in making our processes better and shows our adherence to a recognised standard" argues Rebeca Luna, Transpoco's Information Security Manager.
"We have always been committed to providing information security excellence. Becoming ISO 27001 certified, in addition to our existing ISO 9001 certification, is an extra step for us to further demonstrate this commitment and reassure information is protected, in full alignment with the GDPR requirements coming into effect in May", adds Ms. Luna.
SynX, Transpoco's fleet management solution, helps other companies that rely on vehicles and driving to overcome their daily challenges. Like so many other companies dealing with large amounts of digital data, certification to ISO 27001 was seen as a logical step.
With more and more of us willingly ready to compromise our privacy and security in exchange for what we regard as more valuable access to state-of-the-art technology, the onus is on businesses to ensure that this data is secure. While for everyone the real test will come in just a few weeks with the introduction of the GDPR, companies like Transpoco can be confident that they are putting their best foot forward.
"I want to sincerely congratulate Transpoco on their certification to ISO 27001", says Geraldine Larkin, Chief Executive for the NSAI (National Standards Authority of Ireland - Ireland's official standards body, an organization using measures and standards like ISO 27001 to benefit society and give Irish enterprise a global advantage), "This major global standard forms the scaffolding required for companies to engage in best practice behaviours in cybersecurity."
"It takes a team of committed, hard-working people to achieve certification to international standards, but I know that it is time well-spent," adds Geraldine Larkin.