Fleet vehicle management is not just the preserve of logistics companies but often makes an appearance in other sectors and fields that you might not necessarily be aware of, such as a major event requiring planning and organisation… and one of the major events, if not the biggest highlight of this summer, is the Olympic Games.
Despite Rio 2016 concluding last weekend, we still remember the achievements of our sports heroes along with all the emotions and memories—presenting the perfect opportunity to discuss the Olympic fleet!
The event is in fact not just about marshalling all the different sporting events, but a huge number of staff operate the Olympic vehicles and are also in charge of transit control, emergency and contingencies.
Earlier, during July, the Japanese car manufacturer Nissan supplied 4200 vehicles to the Olympics Committee—the delivery was made official by a ceremony held in the Sambadrome in Rio de Janeiro. The Olympic fleet featured cars from various categories and sizes to ensure comfort and best use across many different activities. According to official sources, the vehicles were used for transporting thousands of athletes, delegation members, guests, and also for supporting operational activities relating to some of the competitions. They were driven by volunteers selected by the Organizing Committee.
Here is one image of some of the vehicles from the Rio 2016 fleet: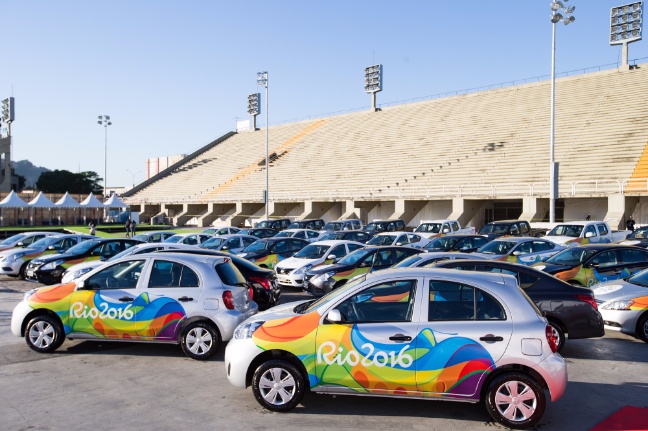 Photo Credit: © Rio 2016 - https://www.rio2016.com/en/news/rio-2016-takes-delivery-of-4-200-nissan-vehicles-for-olympic-and-paralympic-games
Well before the start of the Olympic games, the Organising Committee produced some official documents on the sustainability and carbon footprint management of the event, which detailed the main measures used to reduce the environmental impact of the games:
Provide public transport for spectators and the

labour

force
Implement actions to reduce pollution, including greenhouse gas (GHG) emissions in public transport systems
Operate the Olympic and

Paralympic

fleet using cleaner fuels
Rationalise

and

optimise

logistics operations in the transportation of materials and equipment
With no surprise from us, this was one of the core principles proposed by the committee to reduce their carbon emissions (taken from Rio 2016 sustainability management plan):
"Decrease emissions at the source, lowering total fuel consumption through measures such as giving priority to fuel efficient vehicles, using tires with proper rolling resistance and providing driver training in techniques of economic vehicle operation."
In order to live up to this proposal, the committee adopted a Fleet Software Platform integrated into their Control Centre, which was also able to provide a unified view of traffic information throughout Rio (traffic is a considerable issue in Brazil).
Do you want to reduce fuel consumption, train your drivers to be more efficient and become the next Olympic champion of fleet management?
I think you know what you have to do...