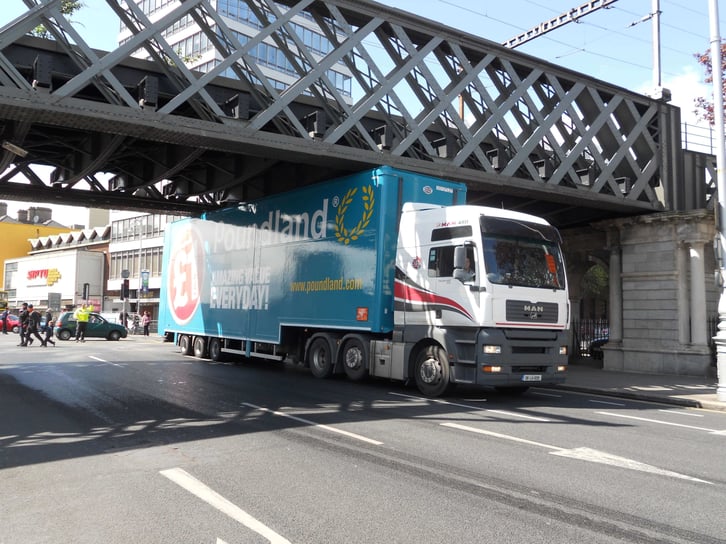 Though, usually, the hottest driving safety topics seem to be driver distraction, speeding and drink driving, there is one topic that is becoming increasingly popular in Ireland, even if it is already a well-known issue for the UK as well—bridge strikes.
Irish newspapers have recently published a warning by Irish Rail, who told truck drivers to "wise up" (the exact words used!) and to be more aware of their vehicle's height as this issue has cropped up again after some time and particularly affects the DART route.
The latest occurrences drew these comments from Irish Rail: "The basic intelligence and competence of drivers involved in these incidents must now be called into question. We have endeavoured to inform and educate drivers, we have advertised, we have improved our signage, we have seen prosecutions and we have introduced new technologies – the message has to get through. It is basic safety for truckers to know the height of their vehicles and the bridges on their routes."
Photo Credit: © Irish Rail http://www.irishrail.ie/news/bridgestrikes
What is a bridge strike and how can it affect road safety?
A strike has occurred if any part of a road user's load or vehicle has collided with a bridge (usually a railway). Most frequently there are collisions with under-bridges (of restricted height) and over-bridges (road over railway, when a driver has made a misjudgement or lost control of their vehicle)—both can have serious consequences.
The causes of bridge strikes can be wide ranging. However, they can be prevented with prior planning and adherence to warning or diversionary signage. Bridge strikes can lead to
loss of life or injury to the vehicle driver, passengers and other members of the public;
traffic delays and congestion;
How can we prevent a bridge strike?
1 - Traffic signs are provided at bridges to show the maximum permitted vehicle height:
2 - Road risk assessment helps identify routes and bridge height. They help drivers:
assess the risk of bridge strikes based on the height and width of the vehicle;
select routes to eliminate the risk of bridge strikes;
assess routes for vehicles under maintenance or engineering test to avoid bridge strikes.
Furthermore:
schedules should not cause the driver pressure, stress or fatigue as this may increase the risk of bridge strikes;
local highway or road authorities—guidance may be obtained on vehicle heights limits under bridges;
vehicle height checks are encouraged during first use—check the maximum height as displayed in the cab of the vehicle (always there as a reminder for drivers).
How should drivers be sensitized to this topic?
Drivers should be aware of the following:
The vehicle height in

metres

and the corresponding imperial measurements
The maximum vehicle height
The maximum vehicle height as displayed in the driver cab
The importance of checking that the load is secure
The number to call in case of an emergency