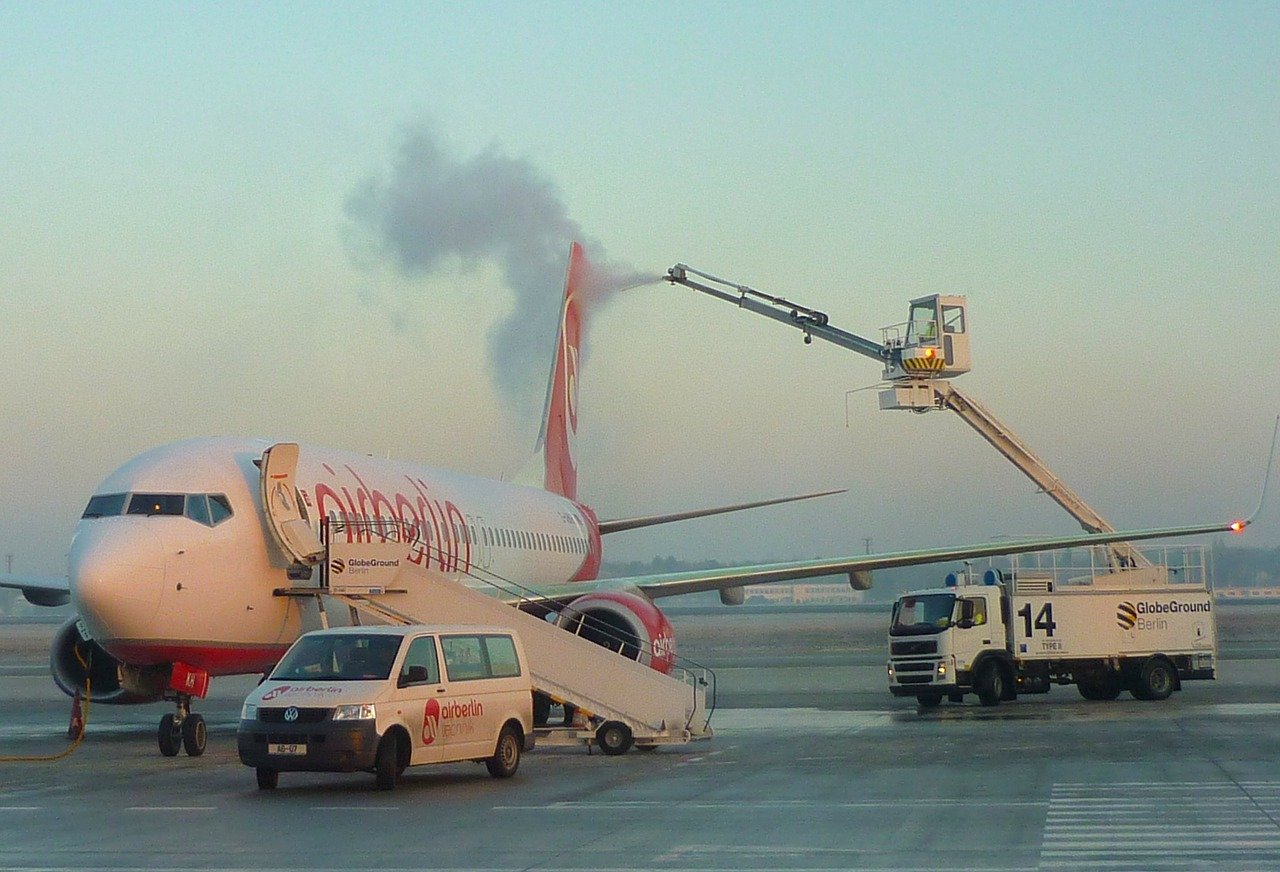 If winter officially starts on 22nd December, the aviation winter season - or, as it is more commonly known, the de-icing season - generally starts in October, depending on the weather conditions. From October to March, more staff are employed by GSE fleets and specially-designed vehicles are ready to tackle snow and ice head on.
Far from being the simple process passengers might have in their imagination, one of spreading salt over runways, taxiways and aprons (which in reality is entirely unsuitable for aviation as salt can damage aircraft), de-icing is the process of removing snow, ice or frost from a surface. Anti-icing is understood to be the application of chemicals that not only de-ice but also remain on a surface and continue to delay the reformation of ice for a certain period of time, or prevent adhesion of ice to make mechanical removal easier.
De-icing and anti-icing operations have to be customised for every airport, company and local setting, although the general rule is that aircraft that has snow/ice contamination on critical surfaces cannot take-off. De-icing and anti-icing vehicles are inspected as well as the aircraft and any contamination found is removed by a de-icing treatment and followed by an anti-icing solution if required, while other parts can be cleaned manually upon confirmation with the flight crew.
Efficient de-icing can definitely be a game-changer as most delays in the transport cycle occur at the airport and de-icing is a key procedure in the turnaround of aircraft. Delays due to de-icing and travel distance of de-icing vehicles need to be minimised as much as possible - something which has been made achievable thanks to the technology brought into GSE fleets. The ability to record de-icing/anti-icing vehicle trips to document and process information related to them and to set up alerts for de-icing events allows proactive resource allocation and capacity forecast calculation that help in meeting the requirements of customers.
With GSE fleet management systems that are highly customisable it is possible to tackle the two main issues connected with the de-icing process: congestion and environmental aspects. In regards to congestion, gaining asset visibility helps GSE staff to optimise the activity of de-icers, achieving greater efficiency on the number of aircraft attended to at one time. The environmental impact of de-icing procedures is constantly debated, however, the benefits of monitoring in saving the quantities of de-icing or anti-icing liquids consumed has been clearly proven.