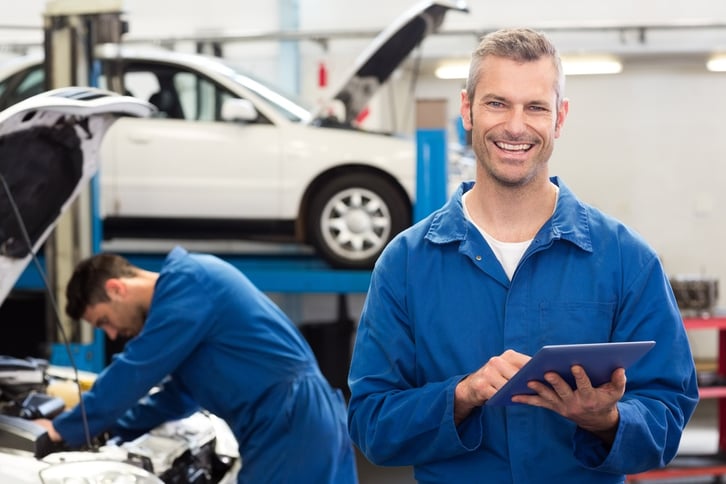 Reducing fleet maintenance costs and saving money on servicing is something you can always do within your fleet operation. On one hand, costs can crop up in unpredictable ways, not always controllable even if you practice preventive maintenance and run regular vehicle checks, but on the other hand, it is sometimes worth exploring different solutions to optimise your fleet maintenance programs and also avoid common myths and misconceptions.
When planning how to reduce fleet maintenance costs, you may in fact be making assumptions or simply applying general rules without fully considering your vehicles specifications or the size of your fleet—and that's a very dangerous way of thinking. So let's have a look together at two strategies you can begin to implement and two big misconceptions to avoid!

Strategy #1: choose the best maintenance provider according to the needs of your fleet
When talking about fleet management and maintenance, you have different options available for your vehicles. It isn't always helpful just to assume that outsourcing will be too expensive and that in-house is more cost effective, it actually all depends if the system chosen fits your needs as a company or a fleet. If you have an in-house maintenance department it may be too expensive and unnecessary for a small fleet, same could be valid for outsourcing if you have a lot of vehicles.

Myth #1: reducing the budget designated to maintenance will reduce your spend
If you want to reduce the amount you actually dedicate for fleet maintenance, you need to make sure regular, compliance maintenance is taken care of and that safety and roadworthiness are not sacrificed. Indeed, unnecessary servicing can be avoided, but if you decide to cut your maintenance budget you have to make the right choices.
Strategy #2: make sure you keep track of everything
From the smallest to the biggest fleets, you need to keep track of every single maintenance event and service history, not only in order to have a proper calendar, but to check numbers, meaning if you see issues crop up with vehicles that are regularly serviced, for example, you are able to raise a flag and check if there is some underlying problem you are not sure about. Having everything recorded is also conducive to saving money by keeping vehicles at optimum performance by ensuring they are properly maintained; however, recorded maintenance also helps save money by preventing issues escalating by tackling them in good time and sanctions are avoided for non-compliance.
Myth #2 - make sure you update vehicles and don't over-extend their operational life
This is another myth, since it is not always true that older vehicles are inefficient and newer vehicles work perfectly. If you do not have an induction policy for introducing new vehicles or practice driver training, it is very likely that your staff will not use vehicles wisely or correctly, hence this will be the determining factor as to whether there are more maintenance events and a higher number of breakdowns.
What do you think about these myths and strategies about reducing fleet maintenance costs? Do you have anything to add?